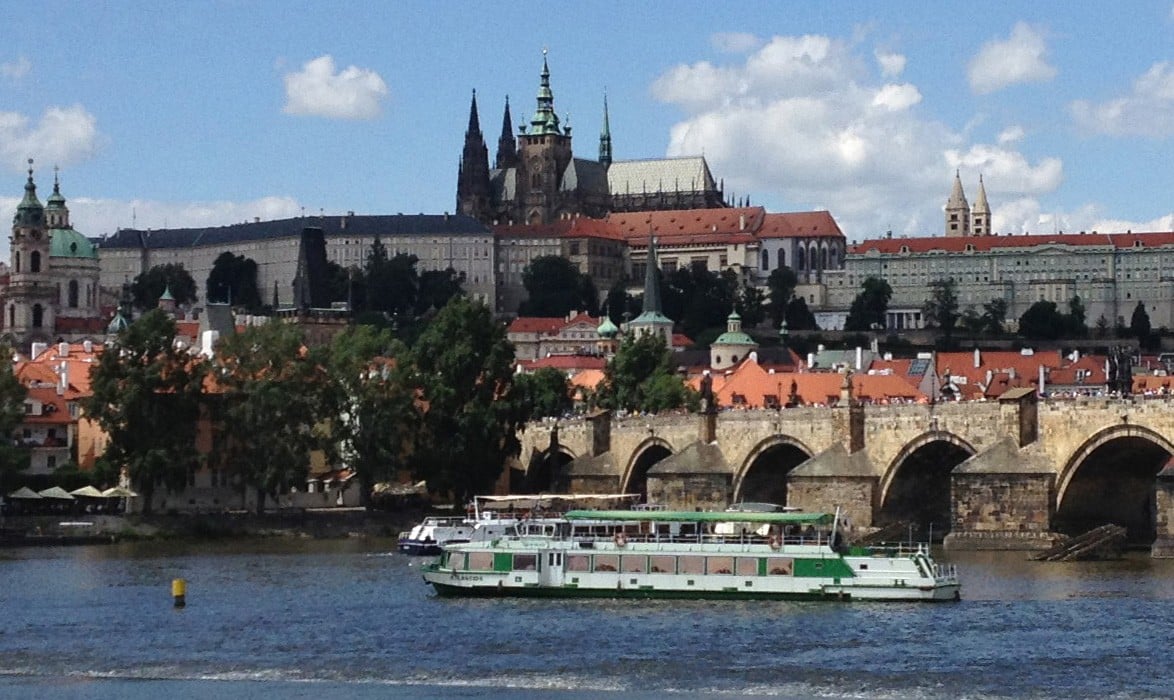 Why Prague is one of the best Digital Nomad Destinations in the world
Prague truly is one of the best cities in the world for Digital Nomads. I should know as I've been coming here for 22 years and have lived here 4 times. Prague was recently voted second in a list of "Best Digital Nomad Destinations in the World" on Nomad List, only behind Budapest. In general, the wifi in Prague is very fast. The ISP company UPC is currently rolling out fibre optic broadband offering speeds of up to 200mbsp. There is wifi in every bar, restaurant and cafe in Prague. They even have pretty good wifi on the trams and there is talk of them putting it on the metro. There are countless awesome things to do in Prague.
My Favourite Cafes To Work From
Prague has cafes to suit every taste from the new hip cafes to the old more bohemian-style cafes. There are of course big-brand cafes such as Starbucks and Costa Cafe but those two, in particular, have never embraced digital nomads. The 4 listed cafes below all have high-speed wifi and multiple power points. I have a speed test of the below cafes.
This cafe is reminiscent of a Parsian Cafe from the 1920s. It's a hidden gem that everyone knows about. If we're not there by 10 am, you may not get a good seat. I can assure that all the staff speak very good English. They have no English menu but any of the waitresses will translate for it for you. Here a latte is 40 CZK, a coke 26 CZK and a beer 33 CZK.
Address: Heřmanova 6, 170 00 Prague 7
Hours: 8.00 am to 12.00 am Mon to Fri, 10.00 am to 12.00 am Sat & Sun
This is a recently opened hip cafe/bar/restaurant right on the corner of Strossmayerovo Náměstí in the Letna District of Prague and very close to Kavarna Liberal. Strossmayerovo Náměstí is one of the main tram hubs in Prague with over 20 different trams all served different stopping there and it's only 2 stops from the center. Here they really embrace Digital Nomad culture as they say they are "Home Office Friendly" on the their website. Here a latte is 50 CZK, a coke 35 CZK and a beer 35 CZK.

Address: M. Horákové 688/8, 170 00 Prague 7
Hours: 8.00 am to 2.00 am Mon to Fri, 10.00 am to 2.00 am Sat & Sun
Another favourite of mine, this cafe is located in the Zizkov district of Prague, which is a more bohemian area of Prague and boasted to have the largest concentration of bars in Europe with over 300 licensed premises in the area. Here a latte will set you back 50 CZK, a coke 35 CZK and a beer 35 CZK. I always use cafe for conference calls and sit in the back area.
Address: V. Nejedlého 487/23, 130 00 Prague 3
Hours: 10.00 am to 11.00 pm Mon to Fri, 11.00 am to 11.00 pm Sat & Sun
Cross Cafes are a chain of Cafes in the Czech Republic and very much cater to Digital Nomads with fast wifi and some power points. Here a latte is 50 CZK, a coke 39 CZK and freshly squeezed orange Juice 50 CZK.
Address: M. Horákové 476/1, 170 00 Prague 7
Hours: Open Daily 6.00 a.m. – 11.00 pm.
Great Coworking Spaces
Office sharing has been gaining popularity because it gives freelancers a chance to share a space, experiences an office environment and even shares ideas. I have used coworking spaces all over the world. A day pass costs in the region of 190 CZK to 500 CZK and monthly passes start at 3000 CZK making them some of the cheapest in the world. Prague has now over 12 coworking spaces. Coworking spaces have now become very competitive and many of them offer a free one-day trial.
Locus Workspace is an English language coworking space (shared office, meeting, and event space) in Prague created to help freelancers, remote workers, digital nomads and other location-independent professionals do their best work.  With members from more than 20 countries and English-language events to promote productivity, knowledge & expertise sharing, and a sense of community.
Free Day Trial: Yes
Costs: Daily Pass: 400 CZK, Monthly Unlimited: 2,500 CZK for the first month & 3500 CZK per month there after
Address: Locus Workspace, Krakovská 1307/22 Prague 1 & Slezská 857/45 Prague 3
This shared office space is located in the heart of Prague. You can rent a place for a day, a week or a month(s).
It accommodates 60 residents and has conference rooms. Here there is WiFi, a chair, a table, reception services, a printer, a scanner and a lot of business events. The convenient location and good infrastructure make this a perfect place for businesses who want to be in the centre of events. It's only a minute's walk from metro Muzeum.
Free Day Trial: Yes
Costs: Daily Pass: 300 CZK, Monthly Unlimited: 3200 CZK
Address: Václavské náměstí 62, Prague 1.
When you become a member, you can enjoy other benefits such as conference rooms, kitchens, printers, cabinet member prices and leases on additional space. They are happy to support you in the development of your business.
Free Day Trial: Yes
Costs: Daily Pass: 249 CZK, Monthly Unlimited: 2690 CZK
Address: Svet-Hub, Slovenska 21, Prague 2
Their motto here is to have a co-working space is different, for them, it is not only about sharing a workspace. They form a tightly-knit community of people where work, knowledge and ideas meet on a daily basis.
Free Day Trial: Yes
Costs: Daily Pass: 500 CZK (4 hours), Monthly Unlimited: 4000 CZK
Address: Koperníkova 10, Prague 2.
Each and every Paper Hub member has the possibility to use, according to the extent of his or her subscription any free spot in the shared working space, the office facilities (printer, scanner, copying machine, Wi-Fi, presentation technology etc.), a kitchen, a terrace and a possibility of hiring a meeting room at a discounted charge. It is also possible to hire your own desk. The membership fees are paid in Bitcoin.
Free Day Trial: Yes
Costs: Daily Pass: 300 CZK (5 hours), Monthly Unlimited: 3000 CZK
Address: Dělnická 43, Prague 7.
In-spiro doesn't try to be like other HUBs and huge coworking centres, where people share a common space. They work hard to create a platform for a community of freelancers, small businesses and entrepreneurs who enrich each other with ideas and experience. They have built an environment that attracts people with the same lifestyle. In addition to that, they take care of technical equipment, coffee supply, cool music, comfort and happiness of their members.
Free Day Trial: No
Costs: Daily Pass: 190 CZK, Monthly Unlimited: 3350 CZK
Address: Argentinská 286/38, Prague 7.
Locco is a new Coworking Space located in the centre of Prague. Locco is ideal for Digital Nomads who intend to stay in Prague for an indefinite period of time because they don't have monthly memberships, you just pay as you go. This is a quiet workspace equipped with ergonomic chairs, external monitors and premium Wifi.
Free Day Trial: Yes
Costs: Daily Pass: 200 CZK for a full day or 40 CZK per hour
Address: Palackeho 7, Prague 1.
Cheap Bars
There is such a diverse choice of bars in Prague. The Czech Republic is very proud of the high quality of its beer and they have the right to be as they have some of the best beers in the world at some of the lowest prices in the world. There may really trendy bars around the Old Town and Wenceslas Square areas and they have prices to match that. Expect to pay at least 40 CZK/€1.60 for a 10-degree beer in the centre and 35 CZK/€1.10 away from the centre. Always check the menu prices before you enter a bar or restaurant and check your bill before you pay it. If the service is good tip leave at least a 10% tip.
All bars are now non-smoking but many bars have an outside seating area where smoking is permitted.
This bar is nestled behind the National Theatre and I have to say that it is the friendliest bar in Prague. They serve Uneticke beer which is only 33 CZK for a large one and on a happy hour which is every evening from 5 to 7 pm, it is only 24 CZK. In the summer there a beer garden opened at the rear of the bar.
Address: Na Struze 1740/7, 110 00 Prague 1.
Hours: 5.00 p.m. – 2.00 a.m. Mon to Fri 6.00 p.m. – 2.00 a.m. Sat & Sun
Chapeau Rouge's reputation has gotten better in recent years and it seems to run more professionally now. Chateau Rouge is a punk bar with 3 floors, a bar on the ground floor, a club in the basement and a live music venue upstairs. Here a large beer will set you back only 50 CZK which is an excellent price considering the bar is only 100 metres from Old Town Square.
Address: Jakubská 647/2, 110 00, Prague 1.
Hours: Mon to Thurs 12 pm to 4 am, Fri 12 pm to 6 am, Sat 4 pm to 6 am, Sun 4 pm to 4 am
Pivovar Národní is a very new microbrewery bar in the centre right beside the National Theatre. Micro Brewery bars have become very popular in Prague over the last 3 years. Pivovar Národní consists of a large non-smoking bar/restaurant and a 100-seat Beer Garden with a children's play corner. It serves 3 micro-brews:- Czech Lion 11° Pilsner .4 – 35 Kc, Czech Lion 11° Unfiltered Lager .4 – 35 Kc and Czech Lion 13° semi-dark special .4 – 39 Kc.
Address: Národní 8, 110 00 Prague 1.
Hours: Open Daily 11.00 a.m. – 11.30 pm.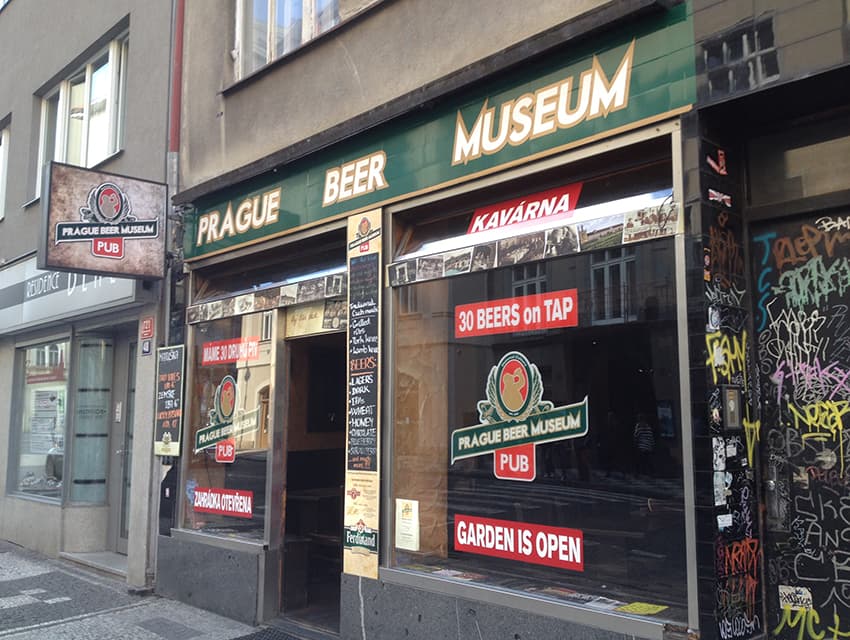 The Beer Museum is a non-brewery-affiliated pub with over 30 beers on tap at any one time and a menu of Czech bar snacks. They have a beautiful beer garden in the back of the bar. They serve my favourite beer on tap Svijany at only 35 CZK.
Address: Dlouhá 720/46, 110 00 Prague 1.
Hours: Open Daily 12 pm  to 3.00 am
Vinohradský Pivovar is located in Vinohrady just a 5 minute walk from JZP (Jirího z Podebrad) metro station. The bar is non-smoking of course. They brew 3 beers on site and you can clearly see the large brewing kettles. The service here is excellent. The Pivovar has 3 micro-brews on tap, Vinohradská 11° Beer .5 – 36 Kc, Svetlý Ležák 12° .5 – 38 Kc and Jantarová 13° .5 – 39 Kc.
Address: Korunní 2506/106, 101 00 Prague 10.
Hours: Open Daily 11 am  to 12 am
There is also a cool bar in this small old-fashioned movie theatre. This one is located close to Letná park, which serves as a meeting point for young artists from the nearby Academy of Fine Arts and other interesting people from the neighbourhood. The cinema plays only a few times a day and apart from the mainstream movies they show also alternative movies and older cult movies.
Address: Františka Křížka 460/15, 170 00 Prague 6
Hours: Open Daily 9:30 a.m. to 1:00 a.m.
This is a legendary bar that I have been going to since the first time that I visited Prague in 1998 and I have to say that not a lot has changed with it. It is definitely a bohemian crowd that hang out here. Downstairs has the best atmosphere as the bar opens on to the street. Upstairs there is a club which plays very loud metal music. A large Budvar beer costs 39 CZK here.
Address: Újezd 422/18, 118 00 Prague 1
Hours: Open Daily  2 pm to 4 am
This great 'wine bar' is one of Prague's best-kept secrets, despite the fact it is on one of the city's busiest streets and just a 5 min walk from Wenceslas Square. Hidden behind a deceivingly small exterior is a huge wine bar decked out with a retro piano and a table-football room where you can take on enthusiastic locals over a beer. The medieval cellar downstairs is also pretty impressive, a complex labyrinth of rooms houses a surprising number of tables branching off at different angles. In the cellar, they have many beers on tap. The bar can hold as many as 300 people and looking at the place from the outside you'd never have thought possible. A Pilsner 12 ° costs only 40 CZK.
Address: Vodičkova 677/10, 110 00 Prague 1
Hours:  9 am to 5 am Mon to Fri, 10 am to 5 am Sat & 11 am to 5 am Sun
Cheap Food Options
While Prague has gotten gradually more expensive over the years, compared to other cities in Central or Western Europe, you can still find cheap restaurants in Prague. You can still get a beer in a bar for a Euro and buy a Gulas in a restaurant for in a local restaurant for €3 to €4. Of course, restaurants in the centre or around the Castle are far more expensive in general than restaurants in a local area of the city. You will find a lot of great value lunch specials from €2.50 to €5.50 during the week. Lunch is usually served from 12.30 pm to 3 pm. The best districts in Prague for good lunch menu options are Vinohrady (Prague 2) and Letna (Prague 7). Most of the servers speak good English and the menu usually is in English and Czech.
There are now 7 of these highly successful Mexican fast food joints in Prague and they are open 24/7. Their Speedie Burritos are a great value option costing a mere €3.20. You can get your food to take away or eat inside. The most centrally located Burrito Loco Restaurant is on Národní Třída.
Address: M. Horákové 3, 170 00 Prague 7 & Vinohradská 1210/60, 130 00 Prague 3
Hours:  Open 24 hours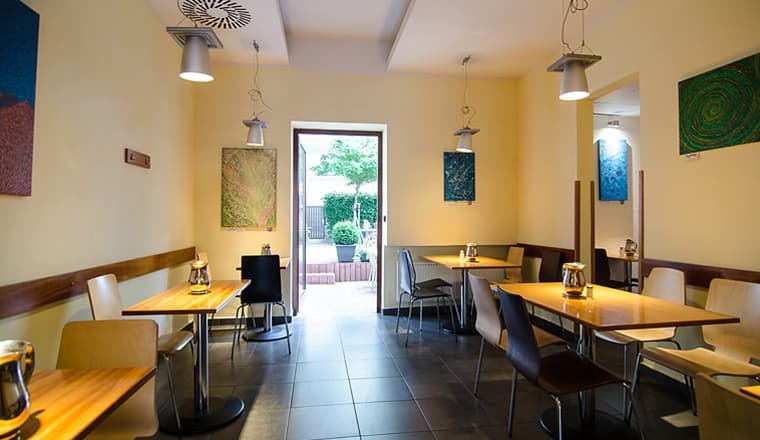 Amazingly Prague has become one of the best destinations in Europe for having such a great variety of vegetarian restaurants (considering Czechs have traditionally been a meat-eating nation). Here your thali is weighted. Expect to pay approx 140 CZK for a full thali. There is a jug of water on each table, so you don't need to buy a drink. If you are a vegetarian, this is a good option. Beas has expanded very rapidly in Prague and now has 8 locations in Prague.
Address: Bělehradská 569/90, 120 00  Prague 3
Hours:  11 am to 9 pm Mon to Fri, 12 pm to 8 pm Sat & Sun
Here they also serve tallies. This is also an excellent takeaway option because they have an excellent container with dividers and then they vacuum seal it. The restaurant located in the most central location is on Strossmayerovo Náměstí in Letna.
Address: M. Horákové 831/3, 170 00 Prague 7
Hours:  11 am to 7 pm Mon to Fri, Closed Sat & Sun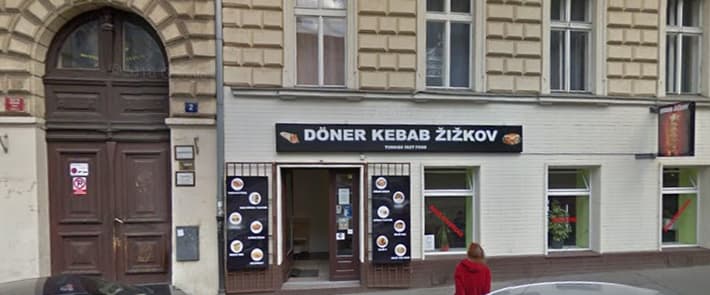 Kebab joints have been popping up all over Prague for the last 3 years and are another great value option for cheap eat. This is one of the cleanest and best Kebab restaurants in Prague located on Seifertova street in Zizkov, Prague 3. Here a Doner Kebab costs €2.60.
Address: Seifertova 3, 130 00 Prague 3
Hours:  11 am to 11 pm Mon to Fri, 12 pm to 11 pm Sat & Sun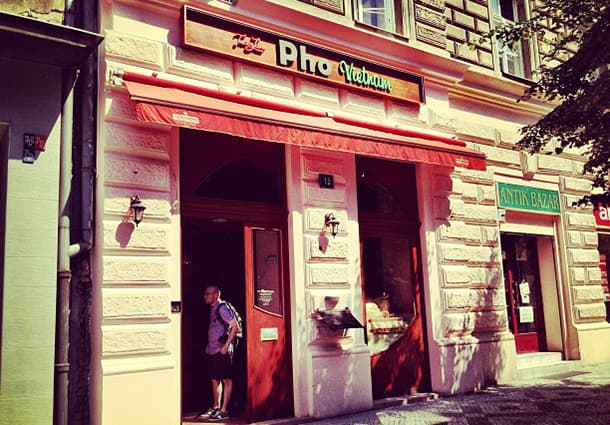 Pho Vietnam Tuan & Lan beside JZP was the first Vietnamese restaurant to open in Prague and they set the standard for excellent Pho in Prague ever since. They now have 3 restaurants in Prague. I recommend any of the Pho's or the Ban Cha, both cost approximately €5.50 each. Below is the address of their first location.
Address: Anglická 529/15, 120 00 Praha 2
Hours:  11 am to 10 pm Mon to Sat, Closed Sun
While the evening menu at Curry Palace can be expensive lunch specials are very good value here ranging from €3.50 to €5.50. This restaurant has been voted Prague's best Indian restaurant on various surveys and has excellent reviews online.
Address: Jirečkova 13, 170 00 Prague 7
Hours:  11 am to 10 pm Mon to Fri, 12 pm to 10 pm Sat & Sun
The Shot-Out Eye is a legendary bar restaurant located in Zizkov roughly halfway between the Karlin Tunnel entrance and Florence Bus Station on Husitska street. Many of the Charter 77 meetings during communism were held here. Also, this place is famous for its cheap and excellent Gulas for only €2.25.
Address: U Božích Bojovníků 606/3, 130 00 Prague 3
Hours:  4.30 pm to 1 am Mon to Sat, Closed Sun
Pizza West is one of the best options to order pizza in your hostel or hotel room during your stay in Prague. Their website is in English. The interface of the website is not attractive but it is very functional. You simply order on the website and it normally takes about 30 mins to 1 hour for your order to arrive. For instance a large Salami pizza costs €4.60 plus the delivery fee. The delivery fee is normally €1.80 but can be more depending on where in Prague you are located.
Address: Bratří Synků 5/1, 140 00 Prague 4
Hours:  11 am to 12.30 am Mon to Sat, 4.30 pm to 12.30 am Sun
There is a Greek Corner Deli in Prague 2 and Prague 7. They sell Greek pies from a server over. I recommend the Spinach and Cheese pie (€2) and also the minced beef pie (€2.50). You can take these to go or eat inside.
Address: Francouzská 836/31, 120 00 Prague 2 & M. Horákové 27, Prague 7
Hours:  9 am to 8 pm Mon to Fri, 9 am to 7 pm Sat & Closed Sun
Taxis
Most of the taxis from the airport won't overcharge you. It costs approx 600 to 800 CZK from the airport to a destination in the centre of Prague. I recommend using an Airport Transfer Company called Transport In Prague. They charge a flat rate of only 480 CZK / 18 Euros. The driver will meet you with your name on a sign at the arrivals hall and all of their cars are upmarket. I can't recommend them enough. Never hail down a taxi on the street though. The best taxi company to use in Prague is City Taxi . You simply text your location and name to +42077257257 (This works with international mobile phones as well). They will reply to you in Czech. You will understand the registration number, make and model of the car and the time of arrival. If you are in a bar or a restaurant, get them to call you a taxi or just use public transport.
Prague Public Transportation Tickets and Passes
The public transport system in Prague is one of the best in Europe if not the world. They have a metro network, trams and buses and all modes of transport are interlinked and very easy to figure out. Much sure to buy your ticket in one of the many yellow vending machines located beside the most popular trams and in all metro stations.
Single-Trip Tickets
The Prague public transport system uses two types of single-trip tickets:
• 30-minute ticket: 
Adults: 24 CZK
Children 6-15 years: 12 CZK
Children under 6: free
• 90-minute ticket:
Adults: 32 CZK
Children 6-15 years: 16 CZK
Children under 6: free
Both tickets can be used on any type of public transportation and allow transfers between lines (subway to subway, tram to tram, etc.) and transfers between different types of transport (subway to tram, tram to bus, etc.) for up to 30/90 minutes from validation.
Tickets are sold through yellow ticket vending machines (also in English, coins only), at ticket offices located at some metro stations and at Tabák/Trafika.
Passes
There are some short-term and long-term passes available:
• Short-term passes - useful if you are using public transport a lot in the short-term
24-hour pass: 110 CZK (children 6-15 years: 55 CZK)
3-day pass (72 hours): 310 CZK
Long-term Pass
If you are staying at least 10 days in Prague, I recommend that you buy the "Transferable Monthly Pass" for 670 CZK at the Main Train Station (Hlavní Nádraží). This is what I always do when I visit Prague.
Getting There
Prague is in the center of Europe and has great bus and train connections. If you don't have a Rail Pass, I recommend Student Agency buses. For example it costs €12 to get from Berlin to Prague one way. Student Agency buses have Wifi, power points, a media center and good leg room. Many budget airlines now flight into Prague, such as Ryanair, Easyjet, Eurowings and Vueling. For example a mid-week one way flight from Dublin to Prague will only cost €36.
Parks
Prague has many green spaces, even in the centre of the city. Here is a list of the best parks.
Riegrovy Sady is in Vinohrady on the border with Žižkov. It is only a 20 min walk from the top of Wenceslas Square. There is a large outdoor playground with excellent changing facilities located in near the centre of the park. This playground is for all ages of kids. The park is also home to one of the largest outdoor beer garden's in Prague. It is very acceptable to have a beer and let your kids play.
This park is just huge (95 hectares). It is great for picnicking, biking and relaxing. On the Letna side of the park, there is a large children's outdoor playground. The best place to enter the park is from Ovenecka street. Turn to the left and you will the playground. In the middle of the park there is a lake and you will see Czech kids on rafts.
Letna is another beautifully landscaped park, perfect for your kids to have a play around. As it is located on a hill you can get some panoramic views of Prague. There is also a small playground and a beer garden.
Phone
1. Buying a Czech Sim Card
If you are staying at least a week in the Czech Republic, I recommend buying a Czech Sim card for your smart phone or tablet. I recommend Vodafone in the Czech Republic. There is a Vodafone shop on the ground floor of the Palladium Shopping Center beside Námesti Republiky. They have a pay-as-you-go data plus texting plan starting at only 250 CZK /€9.40/$11 (this price also includes the SIM card). Vodafone also has "tourist" data packages, where you can rent a hotspot with a data plan. These packages start at 800 CZK for 2 weeks. You will find more info on this here.
Disclaimer: Please note that some of the links above are affiliate links, and at no additional cost to you, I earn a small commission if you make a purchase.