Visiting Prague on a Budget
Prague has gotten gradually more expensive over the years but compared to other cities in Central or Western Europe, it is still fairly cheap. You can still get a beer in a bar for a Euro and buy a Gulas in a restaurant for €2.50. A hostel bed in a large dorm can be as cheap as €5 per night. So you can visit Prague on a budget of as little as €20 per day.
Recommended Cheap Restaurants in Prague
Here's a selection of cheap restaurants in Prague.
The Shot-Out Eye is a legendary bar restaurant in Zizkov roughly halfway between the Karlin Tunnel entrance and Florence Bus Station on Husitska Street. Many of the Charter 77 meetings during communism were held here. Also, this place is made famous for its cheap and excellent Gulas for only 60 CZK/€2.25.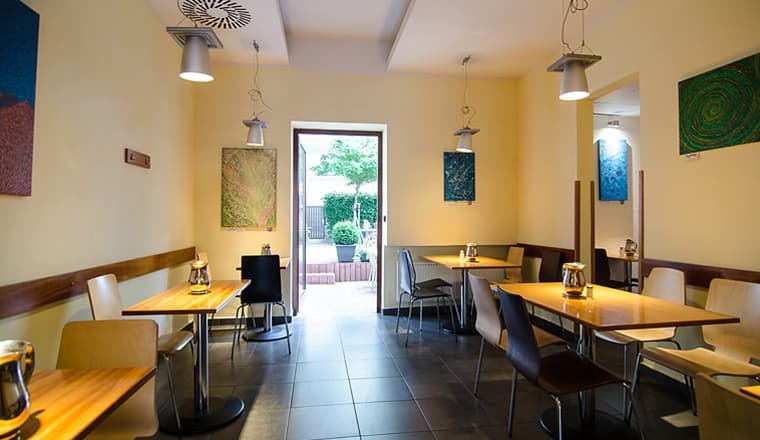 Here your thali is weighted. Expect to pay approx 140 CZK for a full tally. There is a jug of water on each table, so you don't need to buy a drink. If you are a vegetarian, this is a good option. It is located in Vinohrady, Prague 2 and is a 15-minute walk from Wenceslas Square.
3. Bhojan - Indian Thali Restaurant
Here you get a choice of a small or a large thali. The small one costs 99 CZK and the large one costs 119 CZK. This is also an excellent takeaway option because they have an excellent container with dividers and then they vacuum seal it. It appears that the restaurant has gone out of its way not to be online for some reason. It is located near Strossmayerovo Namesti in Letna. From Cross Cafe on the corner walk up Milady Horakove 100 meters and it is on the same side as Cross Cafe.
There is a Greek Corner Deli in Prague 2 and Prague 7. They sell Greek pies from a serve over. I recommend the Spinach and Cheese pie (39 CZK) and also the mince beef pie (59 CZK). These are ideal for lunch.
Kebab joints have been popping up all over Prague the last 2 years and are another great value option for a cheap eat. This is one of cleanest and best Kebab restaurants in Prague located on Seifertova street in Zizkov, Prague 3. Here a Doner Kebab costs 70 CZK/€2.60.
Recommended Bars in Prague
There is such a diverse choice of bars in Prague. There are many really trendy bars around the Old Town and Wenceslas Square areas and they have prices to match that. Expect to pay at least 35 CZK/€1.30 for a 10-degree beer in the centre and 30 CZK/€1.10 away from the centre. Always check the menu prices before you enter a bar or restaurant and check your bill before you pay it. If the service is good tip leave at least a 10% tip.

This bar is nestled in behind the National Theatre and I have to say that it is the friendliest bar in Prague. They serve Uneticke beer which is only 33 CZK for a large one and on happy hour which is every evening from 5 to 7 pm, it is only 24 CZK. In the summer there a beer garden opened at the rear of the bar.
Pivovar Národní is very new micro brewery bar in the centre right beside the National Theatre. Micro Brewery bars have become very popular in Prague over the last 3 years. Pivovar Národní consists of a large non-smoking bar/restaurant and a 100 seat Beer Garden with a children's play corner. It serves 3 mirco-brews:- Czech Lion 11° Pilsner .4 – 35 Kc, Czech Lion 11° Unfiltered Lager .4 – 35 Kc and Czech Lion 13° semi dark special .4 – 39 Kc.
This is a legendary bar that I have been going to since the first time that I visited Prague in 1998 and I have to say that not a lot has changed with it. It is definitely a bohemian crowd that hang out here. Downstairs has the best atmosphere as the bar opens on to the street. Upstairs there is a club which plays very loud metal music. A large Budvar beer costs 39 CZK here.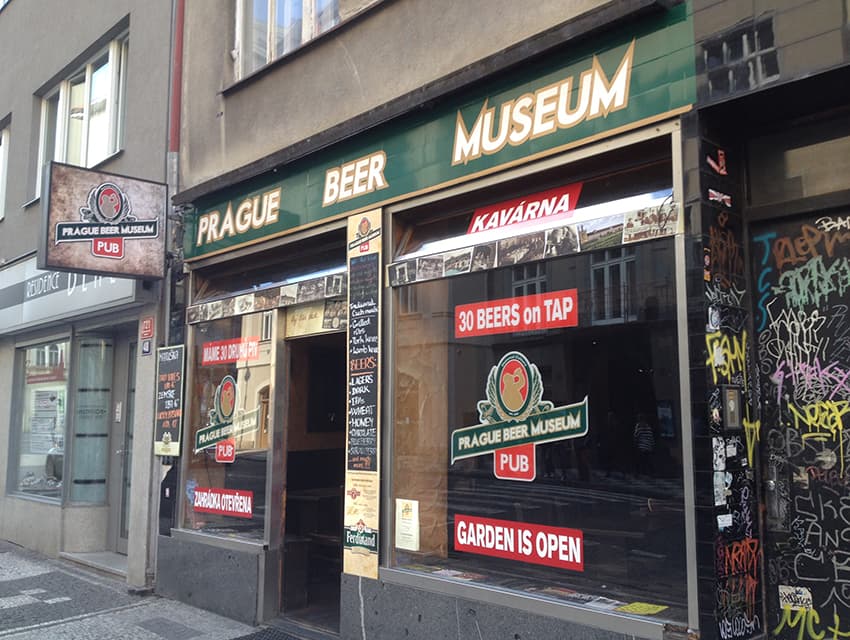 The Beer Museum is a non-brewery affiliated pub with over 30 beers on tap at any one time and a menu of Czech bar snacks. They have a beautiful beer garden in the back of the bar. They serve my favourite beer on tap Svijany at only 35 CZK.
This great 'wine bar' is one of Prague's best-kept secrets, despite the fact it is on one of the city's busiest streets and just a 5 min walk from Wenceslas Square. Hidden behind a deceivingly small exterior is huge wine bar decked out with a retro piano and a table-football room where you can take on enthusiastic locals over a beer. The medieval cellar downstairs is also pretty impressive, a complex labyrinth of rooms houses a surprising number of tables branching off at different angles. In the cellar they have many beers on tap. The bar can hold as many as 300 people which looking at the place from the outside you'd never have thought possible. A Pilsner 12 ° costs only 40 CZK.
Cheap Accommodation in Prague
These days I always travel with my wife and toddler, so we have to choose a good value double room in a hotel, guesthouse or hostel.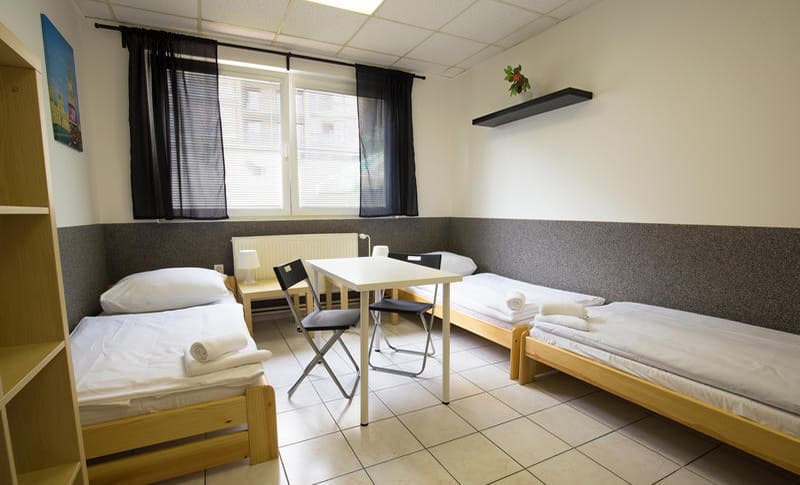 We have now stayed here on 10 to 15 different occasions. The last time we stayed there, we were upgraded to a triple room for no extra charge. We once stayed here for over 3 weeks. There are a lot of workers staying here. The wifi is good in the room and it is clean, but you have to use shared bathroom facilities. There is also a kitchen that you can use. It costs between €16 to €22 per night for a double room and dorm costs between €4 to €8 per night. It is located in Holesvice Prague 7 and it takes 20 minutes to reach the city centre using the tram.
Address: Varhulíkové 1609/13, 170 00 Prague 7.
Costs: from €16 Double room & €4 Dorm Bed
Reviews: Hostelworld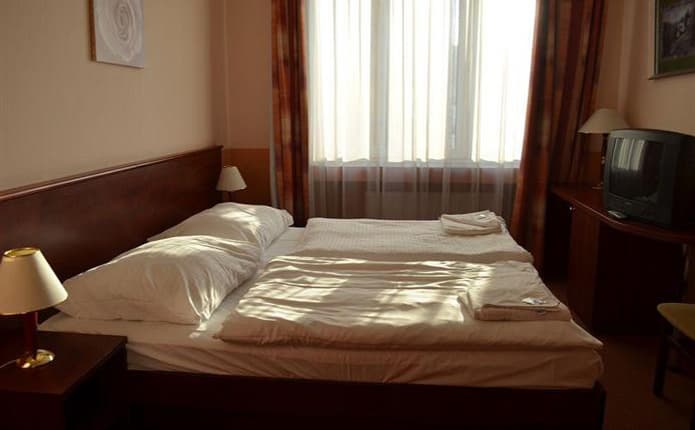 We have stayed in this hotel 3 or 4 occasions when Hostel Seven is full. Hotel Inturprag also has good Wifi in the room and you get a continental breakfast as part of the room price. A double room here costs €20 to €30 per night. It is located in Prague 9 and it takes 15 minutes to reach the city centre using the metro.
Costs: from €32 Double room
Reviews: Booking.com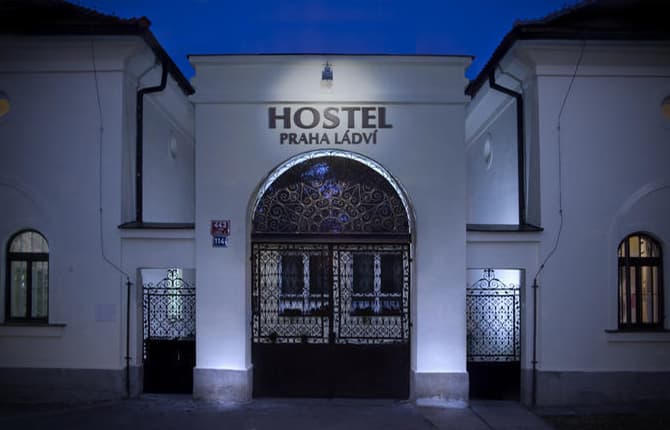 We have stayed here as least 6 times. Located only 100 meters from the metro stop Ladvi by which it takes 15 minutes to reach the city centre. The private rooms are clean but small. The bathrooms are shared and the wifi is Ok. However, the service is good and they have let us check in early on two occasions.
Costs: from €30 Double room & €11 Dorm Bed
Reviews: Hostelworld, Booking.com
If you are looking for something a little retro and cool, why try a dorm bed at Sir Toby's. They have a hostel bar and a kitchen for your use. Price for a dorm bed starts at €7 per night. Sir Toby's is also located in Holesovice Prague 7 and there is a tram stop only 50 metres from the hostel. It takes 15 minutes to reach the city centre from there.
Costs: from €50 Double room & €13 Dorm Bed
Reviews: Hostelworld
If you are looking for somewhere flashy, but affordable the Czech Inn is the place for you. Happy hour is every evening from 6 to 8pm in the Basement Bar with beers for only 25 CZK/95 cents. As you would expect the wifi is excellent and they too have a communal kitchen. There is a 34-bed basement dorm where prices start from €7 per dorm bed per night. The Czech is located on the border of Prague 2 and Prague 10. There is a tram stop literally on the doorstep of this hostel and the city centre city can be reached in 20 minutes.
Costs: from €53 Double room & €7 Dorm Bed
Reviews: Hostelworld
Cheap Flights To Prague
Prague is easy and inexpensive to reach by air. Budget airlines such as Ryanair and Easyjet all into fly directly to the Prague from most major cities in Europe. Always check Skyscanner for the cheapest possible flights. I recently booked a return ticket from Dublin to Prague for only €80 return. For more information check out my post "How To Book a Cheap Flight". It is very easy to get to your hostel/hotel from the airport using public transport.
How to get from Prague Airport to anywhere in the city for only 32 CZK/€1.20/$1.35
Just take the 119 Bus to the metro stop - Nadrazi Veleslavin. From here you can navigate to anywhere in the city. Make sure that you buy a 32 CZK ticket and validate it on the bus. You can buy these in the arrivals hall of Prague Airport.
Prague for Kids
Prague and the Czech Republic really look after their children. There is an outdoor children's play corner in every neighbourhood and these are all free. There are also many parks and one of the largest Zoos in Europe located in Prague.
On TripAdvisor Prague Zoo is rated the fourth out of the best zoos in the world and in 2007 Forbes magazine listed Prague Zoo among the world's best zoos. Metro stop Zoologická Zahrada and you have to get a bus from there to the Zoo's entrance.
Parks
Prague has many green spaces, even in the centre of the city. Here is a list of the best parks.
Riegrovy Sady is in Vinohrady on the border with Žižkov. It is only a 20 min walk from the top of Wenceslas Square. There is a large outdoor playground with excellent changing facilities located in near the centre of the park. This playground is for all ages of kids.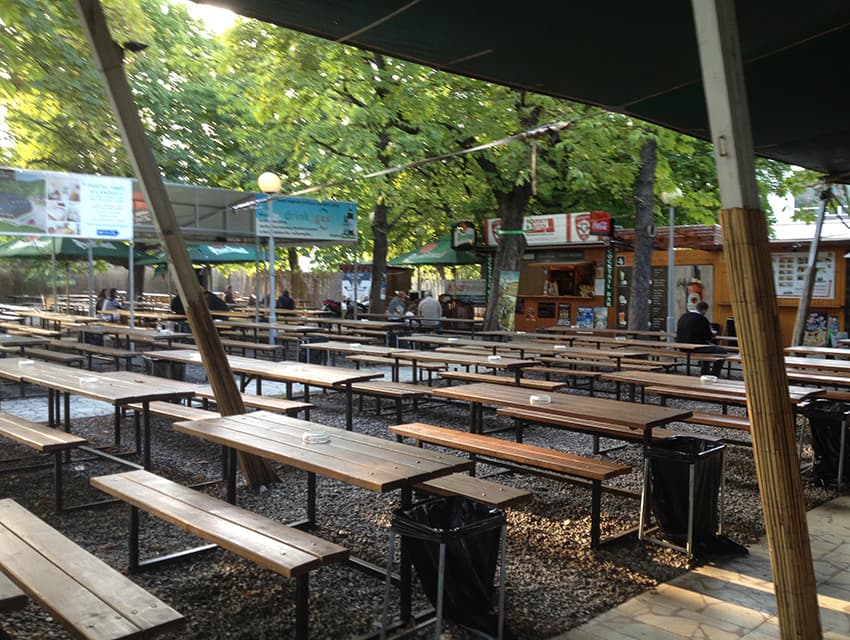 The park is also home to one of the largest outdoor beer gardens in Prague. It is very acceptable to have a beer and let your kids play.
This park is just huge (95 hectares). It is great for picnicking, biking and relaxing. On the Letna side of the park, there is a large children's outdoor playground. The best place to enter the park is from Ovenecka Street. Turn to the left and you will the playground. In the middle of the park there is a lake and you will see Czech kids on rafts.
Letna is another beautifully landscaped park, perfect for your kid's to have a play around. As it is located on a hill you can get some panoramic views of Prague. There is also a small playground and a beer garden.
Children's Play-Corners (Dětský koutek in Czech)
There are Children's Play-Corners in every major shopping centre in Prague, Palladium, Flora and Andel (Nový Smíchov) to name a few. My son prefers the one in Andel Shopping Centre. These cost 80 to 100 CZK per hour. Some cafes and restaurants have Children's Play-Corners such as Cross Cafe and Curry Palace in Letna.
Prague Public Transportation Tickets and Passes
Single-Trip Tickets
The Prague public transport system uses two types of single-trip tickets:
• 30-minute ticket: 
Adults: 24 CZK
Children 6-15 years: 12 CZK
Children under 6: free
• 90-minute ticket:
Adults: 32 CZK
Children 6-15 years: 16 CZK
Children under 6: free
Both tickets can be used on any type of public transportation and allow transfers between lines (subway to subway, tram to tram, etc.) and transfers between different types of transport (subway to tram, tram to bus, etc.) for up to 30/90 minutes from validation.
Tickets are sold through yellow ticket vending machines (also in English, coins only), at ticket offices located at some metro stations and at Tabák/Trafika.
Passes
There are some short-term and long-term passes available:
• Short-term passes - useful if you are using public transport a lot in the short-term
24-hour pass: 110 CZK (children 6-15 years: 55 CZK)
3-day pass (72 hours): 310 CZK
Long-term Pass
If you are staying at least 10 days in Prague, I recommend that you buy the "Transferable Monthly Pass" for 670 CZK at the Main Train Station (Hlavní Nádraží). This is what I always do when I visit Prague.
The Break down of a €20 (540 CZK) per day budget in Prague
Food: €7

Breakfast: €2 (Roll cheese and a 2L bottle of water from a shop)
Lunch: €2 (a pie from the Greek Deli or something from  another take-way)
Dinner: €3 (Have a Gulas in a local restaurant or a Kebab)

Beer: €4 (3 or 4 local beers in a cheap bar)
Transportation: €2 (2 30-minute journeys on public transport)
Accommodation (Hostel): €7 (cheap dorm bed in a hostel)
Related Articles:
Disclaimer: Please note that some of the links above are affiliate links, and at no additional cost to you, I earn a small commission if you make a purchase. I use all the companies listed and I recommend them.