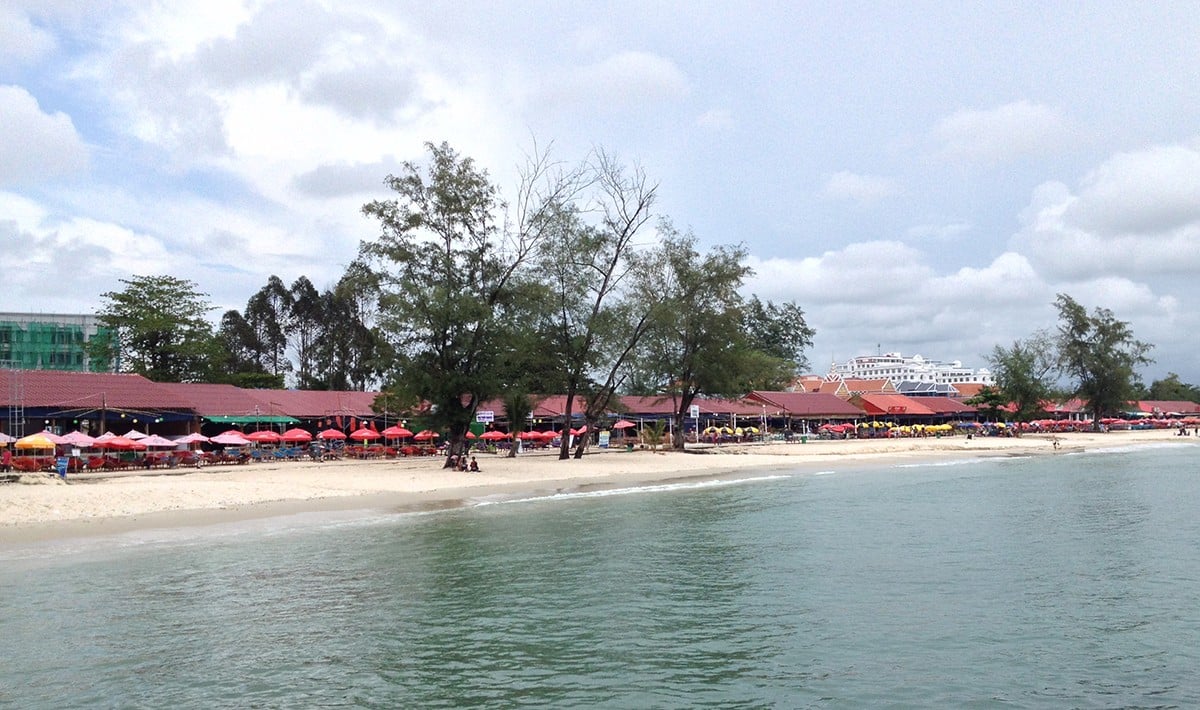 Digital Nomad Guide to Sihanoukville
While Sihanoukville or (Snooky as it's also known as) is not renowned as been a top Digital Nomad destination, it certainly has it's advantages and it's extremely cheap.
Sihanoukville is a relatively youngest city in the south of Cambodia only 90 miles from the Thai border. Construction of it began in 1955 shortly after the French left Cambodia. Back then the town was called Kompong Som. When the construction of the port was completed in 1960 it was renamed Sihanoukville (after King Sihanouk). Many Cambodians still refer to it as Kompong Som.

1. Work Cafes
During my stay in Cambodia, I mainly worked in this cafe. It has a good wifi speed and it was quite most of the time. There are five or six power outlets. It's located on Golden Lion Circle. As you can see from the speed test below Topic Cafe has both a very good download and upload speed.
Address: 23 St Tola, Krong Preah Sihanouk, Cambodia
Opening Hours: 8am to 10pm daily
Monkey Republic are a chain of hostels in South East Asia and they also have a very good bar/cafes with good food and atmosphere. Here the wifi is also very good and they are many power points. I also used their cafe during my stay in Kampot.
Address: Serendipity Rd, Krong Preah Sihanouk, Cambodia.
Opening Hours: 8am to 12 midnight daily
2. Good Accommodation Options
The two main areas of accommodation are on Otres Beach Road and Serendipity Road. Otres is quite and mainly targeting couples and families, whereas Serendipity is more geared for young partying backpackers as Serendipity Road has many late night bars.
Located on Otres 2, we stayed here for 5 nights. This is a very good budget option. We stayed in the Superior Twin with Air Conditioning. It cost €18 per night. It's only 70 meters from the beach. The wifi was Ok in the room and even better beside the reception area. It also had a small market selling snacks and cold drinks.
Address: Otress 2, Krong Preah Sihanouk, Cambodia.
Costs: from €13 Double room with fan
If you're looking something more upmarket on Otres 2 then Secret Garden is the place for you. Their Bungalows have beautiful views of the beach.
Address: Otress, Krong Preah Sihanouk, Cambodia.
Costs: from €71 Double Air Conditioning Bungalow
After staying in Golden River Bungalows we moved this budget Guesthouse on Serendipity Road. We stayed in a double room with Air Conditioning. The room was large and the wifi was very good. It cost €17 per night.
Address: Serendipity Road, Krong Preah Sihanouk, Cambodia.
Costs: from €9 Double Fan Room
Monkey Republic hostel on Serendipity Road is another fantastic accommodation option. We did not stay because they don't allow children (I have a 4 year old boy), however I did look at a private room and it was of a very high standard.
The property also has a large swimming pool and as I mentioned earlier a bar/restaurant just off the street. It's one of the main landmarks on Serendipity Road only 100m from Golden Lions circle.
Address: Serendipity Rd, Krong Preah Sihanouk, Cambodia.
Costs: from €10.26 Double Fan Room & €4.70 Dorm Bed
Reviews: Hostelworld
CHECK PRICES ON HOSTELWORLD.COM
If you intend to stay longer there are many long term apartment options in Sihanoukville. These start at $150 per month. For $250 you get a really nice apartment. These are some of the best resources: sihanoukvilleproperty.com & sihanoukvilleagent.com
We entered Cambodia via the Hat Lek/Ko Kong Border crossing. A normal tourist visa costs $30 (30 days) but as I intended to stay longer I got the business visa which costs $35 (also 30 days but it's renewable). Don't forget you have to have 2 passport size photos. Then extending your visa is fairly easy if you want to stay longer the 30 days. Just go to a tourist agent and they will gladly do it for you. It's takes up to a week because your passport has to sent to Phnom Penh for processing. You can find more information about this here.
4. Cheap Bars & Restaurants
There are many Western food options along Otres beach road and on Serendipity road. Below is a list of restaurants we ate at and recommend.
We ate here three or four times. I always had the Beef Burrito with extra cheese which is absolutely delicious. It cost $5 for the Burrito and $1 for the extra cheese. The service and atmosphere were also great. A local beer is only a €1. I can't recommend Maybe Later enough.
Address: Serendipity Rd, Krong Preah Sihanouk, Cambodia.
Opening Hours: 11am to 1am daily
Monkey Republic has a huge selection of Western mains as well as plenty of  Khmer dishes and also very good breakfast options. This is the most social bar that I came across in Sihanoukville. They have a happy hour every night from 6pm to 9pm.
Address: Serendipity Rd, Krong Preah Sihanouk, Cambodia.
Opening Hours: 8am to 12 midnight daily
Just off Serendipity Road, Ernie's served a variety of good value burgers starting at $2. There is a nice outdoor sitting area.
Address: Krong Preah Sihanouk, Cambodia.
Opening Hours: 11am to 11.45pm daily
5. Great Beaches
Ochheuteal/Serendipity Beach
Serendipity Beach is the northern end (roughly one fifth or 600 m) of Ochheuteal Beach, while the southern remains largely undeveloped.
Otres Beach
The beach is divided into 3 main areas Otres 1 which is two kilometers, an undeveloped park area in the middle and Otres 2 which is one kilometer long. In my view this is the best beach in Sihanoukville.
If you are into scuba diving, then Sihanoukville is the perfect place for you. There are many islands off the coast, all waiting to be discovered. You will find Diving centers on Serendipity Road.
6. Transport
The city does not have any form of public transportation. The two modes of transport in Sihanoukville, motorcycle-taxis (moto-dups) and tuk-tuks. You will find them on every street of the city. A taxi from Golden Lions circle to the Downtown costs $3 and a taxi from Golden Lions circle to the bottom of Otres beach costs $8 but takes at least 20 mins.
Last but not least don't forget to buy travel insurance. I always use World Nomads Insurance while in Asia. They have travel insurance packages to suit all kinds of traveler. It costs approx €100/$120 per month and for this you will get very comprehensive cover. Simply fill out the search box below to get a free quote.
Disclaimer: Please note that some of the links above are affiliate links, and at no additional cost to you, I earn a small commission if you make a purchase.